Yes. I know. I haven't been around lately. I have been very busy getting ready for Valentine's Day. It is not an easy task if you have only eight fingers and two little hands to rely on.

As some of you can probably imagine a single and self-respected chipmunk must engage in certain social activities that could help him find a mate and a lovable companion for the warm spring days and long summer afternoons.
Personally, I always like to kickoff the new season with a splendid Valentine's Day celebration. And as always during this time, my all my thoughts turn to Tootsie – the elusive beauty of our backyard. She has been feared by many and loved by the masses. She can chase intrudes like its nobody's business, she can crack a hazelnut and even tackle a whole walnut, and she never refuses a peace of a juicy peach. And if she feels like it, she can ever so nonchalantly enter our neighbors' pantry in search for an exquisite treat…and get away with it! Needless to say, she is a rare beauty I choose to worship.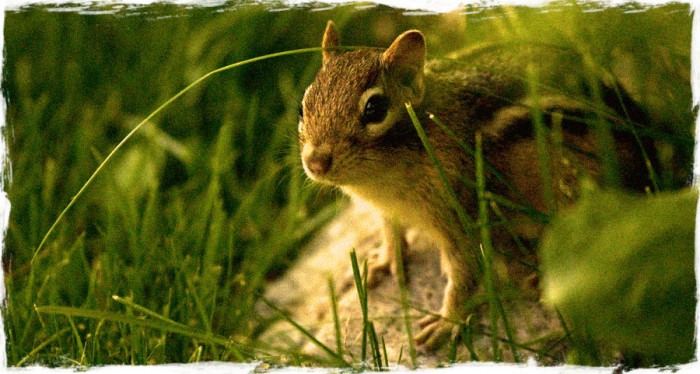 This year I decided to send her hand made card and a bunch of handsomely crafted chocolate truffles. As always, for recipe I turned to Martha, and as soon as I selected one my sensible whiskers were covered with Dutch cocoa and my fuzzy hands were smothered with Valrhona chocolate. The scent of vanilla that meandered throughout the tunnels of my burrow made me shiver with excitement. I never felt so alive!
My masterpieces went out early this morning via VoleExpress (Good service, even though they tend to munch on the goods they deliver, but I suppose you cannot stop a rodent from gnawing. Can you?).
Now, I am beginning to feel a tad too sticky from all that chocolate, butter and heavy cream. Not a good feeling if you are a chipmunk. Oh, well…the things we do for love! Perhaps next time I will roast some almonds?
I do hope she likes the chocolates though. It would be so nice.